We built an inclusive accelerator from scratch, get to know our 8 graduating founders!
During the summer following my graduation from the University of Delaware, I began taking my first steps as a full-time entrpreneur.
Our First Founders
During the summer following my graduation from the University of Delaware, I began taking my first steps as a full-time entrepreneur. I knew I'd be participating in the 'Summer Founders' pre-accelerator at UD just two weeks after commencement, but I'd begun preparing myself even before that. One of those steps included emailing the local county government with the following message:
"I recently graduated from the University of Delaware with my Master's in Entrepreneurship & Design, and now I'm a full-time entrepreneur looking to make a significant impact within the local community, especially with the underrepresented entrepreneurs who are already doing some great things. Would it be possible to schedule a meeting with you sometime next week?"
I discovered there was a need for an inclusive accelerator program accessible to entrepreneurs just getting started. There are plenty of programs out there, but few seemed to cater to the needs of those truly early-stage founders looking to participate in the innovation economy. From June of 2018 to January 2019, I put in the work to turn the initial idea in my head into a real opportunity for others.
With the support of Tamarra Morris at the New Castle County Government, we officially announced our program on January 14th, and began our first session a few short weeks afterwards. The name 'First Founder's Accelerator' is significant to me for a few reasons; it's the first program of it's kind in our startup ecosystem and it's designed to be accessible for first-time founders. 'Founder's' is significant since the program is truly meant to meet the needs of each individual founder. Regardless of what companies they're building, this program was built to accelerate their growth as entrepreneurs.
Check out our launch video:
Courtesy of New Castle County Government
After screening our applicants, we knew exactly who should be in our first cohort. These dynamic founders committed 12 consecutive Saturdays to learning and growing as entrepreneurs. We covered everything from adopting a "founder's mindset" to gaining the skills to confidently pitch your company to resource providers and key stakeholders.
Ok, enough of the backstory, meet our founders!
Connie was, by far, our most improved founder. Connie likes to joke that she's the oldest member of the cohort, yet always the first to show up to class (along with our youngest founder, Mike). We could count on her to come into class each week sharing how she'd just made another sale, often with customers finding out about her over seas in countries like Germany and Japan. If you're looking for fashion that makes every woman feel like she has the perfect body, you can purchase her designs here!
Mike was actually one of my first students during grad school when I taught a college-level entrepreneurship course to high school students. To see how much progress he's made in such a short amount of time is absolutely amazing. He's an advocate for mental health awareness and is doing all he can to break the stigma of having tough, but very important, conversations. The Outcasts: Guardian Angel is an upcoming indie game dedicated to improving and teaching about mental health stigmas and societal issues such as depression, bullying, abuse, and many more. You can follow the development of his game here.
Kemba Hall, founder of HairSense
Kemba served as our accelerator's 'Entrepreneur in Residence' throughout the program, which meant that not only did she participate as a founder, but she also supported the cohort to make sure our sessions ran smoothly each week. We could be sure to count on her dropping #MondayMotivation quotes in our Slack channel first thing each week. One of my favorites was "The distance between your dreams and reality is called action." Kemba's company, HairSense, is an app using data-driven technology to simplify the haircare experience for curly women, while addressing the business needs of haircare lines and stylists. They're helping women pick out their next style the way they pick out their next outfit! Join their mailing list here.
Ireida Grabill, Operations Director at Lanuage Liaisons
We could count on Ireida to bring the energy each week and to always be that positive force in the group. She was truly indefatigable and kept me on my A-game every Saturday! Language Liaisons provides full-service foreign language consulting and services in the areas of on-site interpretation, translation, training and both academic and professional tutoring in Delaware and the Tri-State Area. Fun fact, Language Liaisons was the first agency in Delaware to provide foreign language interpreting specifically to the medical field, and they provide services in over 50 different languages. Learn more about their services here.
Moises is a rock star, he's an award-winning cinematographer, and cofounder of Yummie Creative, a digital media agency specializing in "taking good ideas and building them into great ones." You should absolutely check out his work and book him if you need a commercial or any other type of video produced. Fun fact, he's done great work in the past for organizations like The NFL, The Food Network, and Nickelodeon. Check out Moises' phenomenal work here.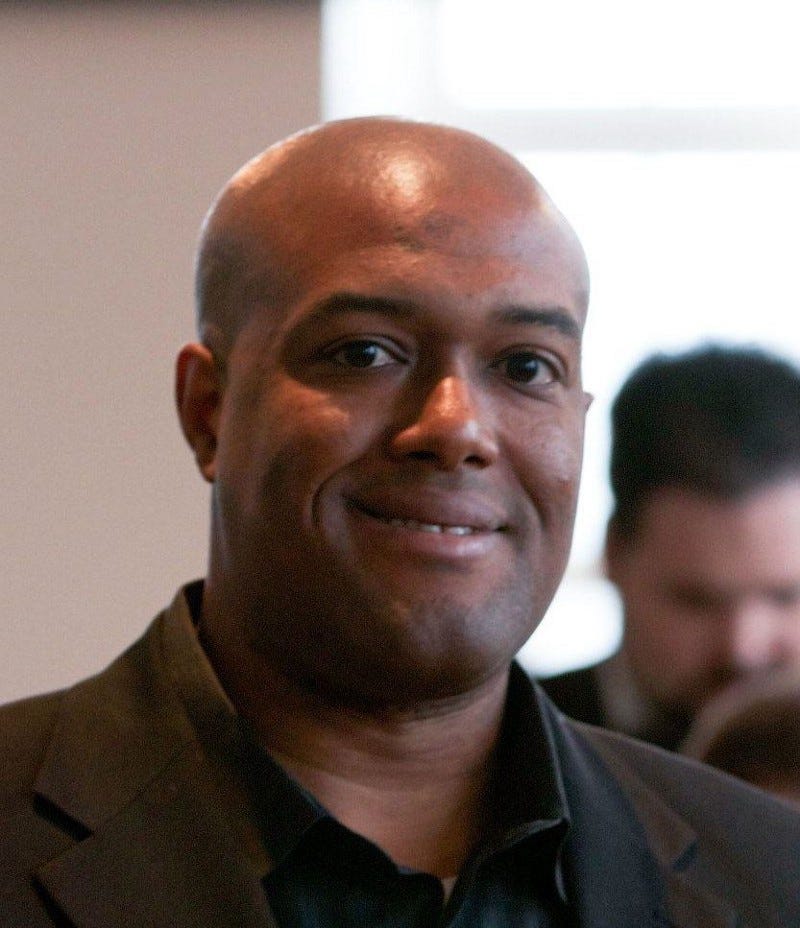 Dan Young & Amy Sassaman, founders of Black Diamond Card
Dan was my first entrepreneurship professor in college, so in an interesting turn of events, the student became the teacher! Dan and Amy are building Black Diamond as a social networking event and branding company helping spur local economic development. Their company was even featured on Technical.ly Delaware shortly after graduation, check them out: How the Fyre Festival doc inspired these social marketing startup founders.
Geronimo Vannicola, founder of WavLab Studios
Geronimo is the Grammy-nominated Founder and Executive Producer at WavLab Studios. Amazing, right? As the most free-spirited founder in the cohort, we could always count on him to make us laugh while also inspiring each of us to tap into our creative side. He's the guy you can count on to lift you up when you're not realizing your true potential. Check out one of the songs he mixed and mastered here.
Here's what a few of our founders said about the program:
"I've learned how to better present myself and my business. I was able to improve not only my product but myself as well, becoming more confident and excited to work. This program helped me an unbelievable amount."
"It was a sense of validation. It gave me more in-depth look at how to make my business more scalable and to raise the bar! I learned a lot about what I could change and have the courage to move forward."
"We completely revamped our business model in the program."
We also had a few principles throughout the program…
Trust the Process: this may be something that's entirely new for you, and you may not be sure of what's on the other end, but trust that our process is going to help you get where you want to go.

Make it Stretch: make the most out of the little resources you're given. After all, underrepresented founders are used to taking lemons and making lemonade.

Keep it 100: don't be afraid to hold back how you're feeling. Entrepreneurship is hard, just ask for help when you need it.

Lift as You Climb: as we move along our own paths and reach toward attaining our goals, be sure to reach out a hand to bring someone else up with you along the way.
Here are some words of encouragement for future founders:
"No matter how many people believe in you, if you don't believe in yourself then it won't matter. It's important to believe in yourself, not just for your businesses success but for your personal growth."
"Be flexible and willing to change approaches based on the feedback from your cohort."
"Absorb as much knowledge from the mentors that you can. Apply yourself and don't be afraid to ask questions."
"Remain resilient and Don't lose your spirit for greatness, because it's a tough road being an entrepreneur."
Check out this great video the New Castle County Govt. captured:
"First Founders Graduates First Class of Entrepreneurs"
Practicing on stage before Demo Day
Our founders participated in a Demo Day at the Route 9 Innovation Library in New Castle, DE where they got to pitch to a group of mentors and resource providers from around the state. More than simply trying to impress our invited guests, this was really an opportunity to celebrate them, the founders.
Congratulations to the Founders!
I have no doubt that each of our amazing founders will continue to do incredible things, and I look forward to continuing to assist them as they progress along their journeys.
I'm proud of what we were able to accomplish, and hope we're able to empower many more entrepreneurs long into the future. It was truly amazing to create a program that helped our founders reach their personal goals and measure success by the standards they set for themselves.
Thank you to all of the mentors and partners who came together to support our founders: New Castle County Government, New Castle County Chamber of Commerce, Samsung NEXT, NEXTFAB, and of course 1313 Innovation.
Thanks for reading!